Reading Time:
2
minutes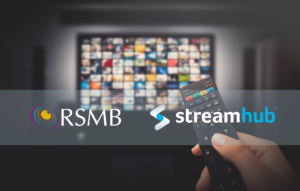 The strategic partnership will address growing demand for hybrid measurement across linear and streamed TV with a unique cross-platform metric
RSMB and Streamhub have announced a ground-breaking partnership that is set to create a unique offer in the cross-platform measurement of viewing linear and streamed TV. 
The rapid evolution of streaming and connected TVs is creating new opportunities for consumers, content producers and advertisers alike. This has led to a need for measurement methodologies to adapt to these new demands. One manifestation of this is the need for hybrid measurement, for example the integration of traditional TV panel data with the first party data of TV streamers). The new partnership between RSMB and Streamhub will provide solutions in this growing area of TV and video measurement.
The partnership will provide clients with RSMB's currency grade data modelling capabilities matched with Streamhub's multi dataset analytics and activation platform.
The initial focus of the partnership will be to build out incremental reach calculations for clients. This will allow reporting of the reach delivered by streaming services over and above the reach of linear TV through the high quality integration of currency metrics with first party data. The partnership will initially focus on Japan where Streamhub will be representing RSMB's capability in the market. However, key modules will be available in all markets internationally.
Chris Mundy, CEO of RSMB commented: "RSMB has a successful track record in managing data integrations and calculation of currency metrics. Partnering with Streamhub allows us to operationalise these measurement solutions more quickly, in more markets." 
Akihiro Tsuchiya, CEO of Streamhub, said: "We are excited to see our audience analytics product move into cross-platform measurement, bringing together our two strengths: managing complex streaming data and handling currency-grade panel data to service both TV and streaming advertising opportunities."
Author profile
Account & Product Marketing Executive at Streamhub, Engaged in the web advertising industry for 10 years.