Video Analytics Can Be Overwhelming: We Have Simplified it for you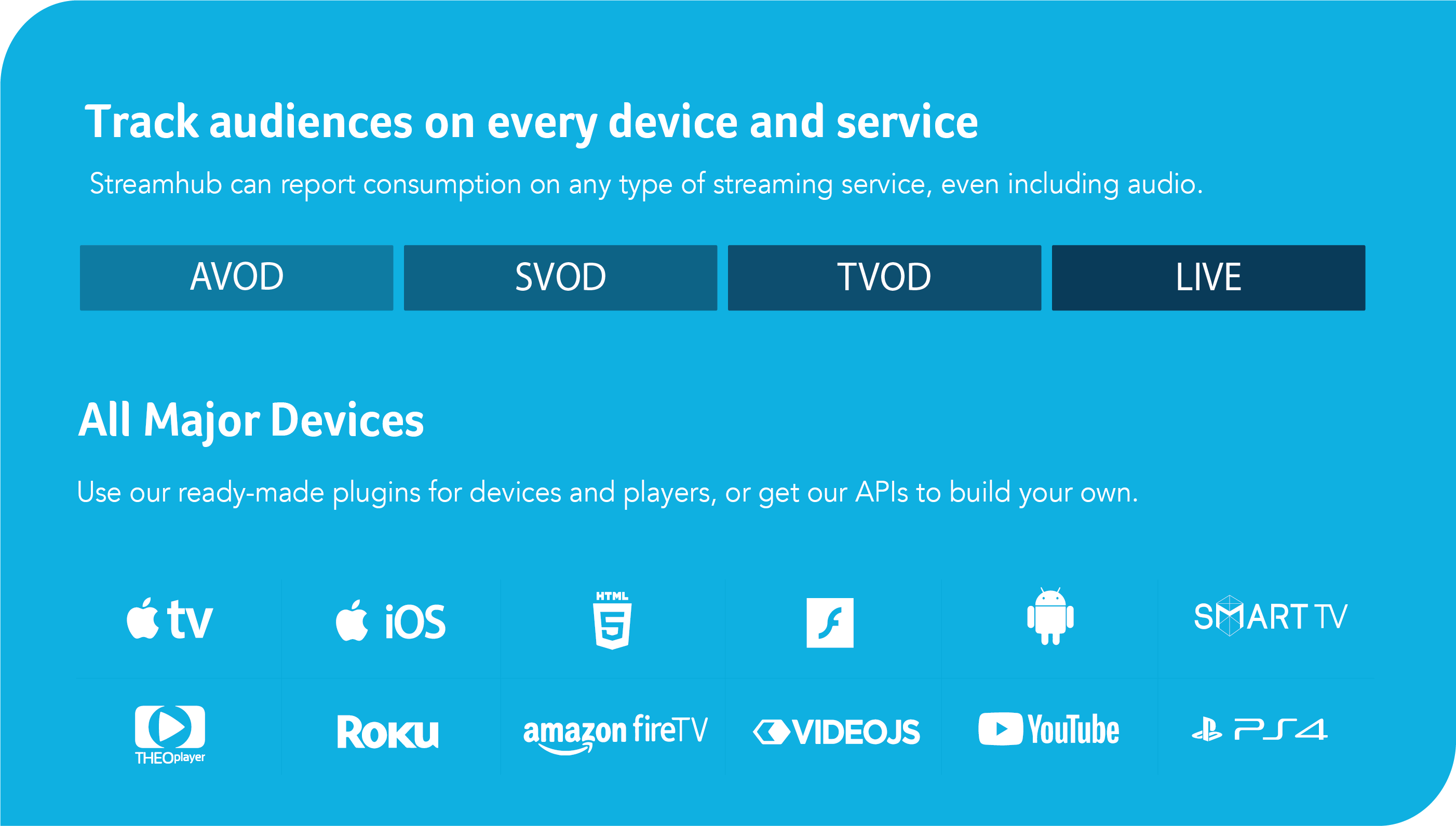 Video Content and Ad reporting
Whether you're AVOD, SVOD, TVOD or Ad free VOD you need the basics in place.
Our Content reporting is organised by title, series, episodes, channels, genres, actors, etc.
And our Ad reporting by advertiser, agency, creative units and campaigns.  
Time to market & flexibility is key
We have simplified the steps to get started.
We are already pre-integrated with the Brightcove, Comcast & Simplestream, and we have SDKs for all major OVPs and platforms.  You can also build your own integration. 
But if you already have viewing logs in a data lake, we can work with that too.
Audience Demographic Reporting
There is not much value in just having QoS or Content reports until you put a face behind it.
We work with your 1st party customer data to generate demographic profiles of your users.
We then combine this with your viewing, subscriber and QoS data to paint a full picture.
Analytics alone won't do it
At the end of the day, analytics is here to help measure and improve your video business.
To truly help anyone, the data must be actionable.
We will help you streamline vanity metrics and focus only on the right data that can lead to action through our ad hoc segmentation service or SaaS DMP platform. 
Streamhub integrates into your data ecosystem to support the management of your big video data 

Our understanding of the industry and exclusive focus on difficult video data enables our product to integrate
flexibility

into existing data

ecosystems

.
Flexible fit into your existing data setup
Our understanding of the industry and exclusive focus on difficult video data enables our product to integrate flexibility into your existing data ecosytems.
Case examples
For example, we have several customers who have built their own proprietary data lake models or utilise Adobe Analytics as their main data solution. 
We slot into these ecosystems by being fully responsible for the end-to-end management of video data, subsequently pumping the cleansed and validated data into the customer's data lakes and warehouses via our APIs. 
Our Data-In & Data-Out Architecture
We will help you add value to the existing video data through our robust Integration Engine, External APIs or DMP. And we'll make it as easy as possible for you by automating everything we can. 
Case examples
We have been fortunate to work across the entire market in Japan, where we enrich the census video data with currency panels as well as 1st party demographic data from the broadcasters. This data is then made available for planning and targeting by the agencies for higher CPMs.